The Crystal Grove Fire Athame has been carefully hand crafted using a flint knapped Red Jasper blade and a Deer Antler tip handle joined with a Sterling Silver bolster and guard. Every phase of the crafting of this magickal creation began with me calming and centering myself and setting the intention of the connection with the Fire element. Whether you use this Fire connection, or charge it with your own intention, the whole crafting process began with a prayer to the spirits of Fire and was filled with a feeling of Passion and Energy. The Fire Athame is approximately 21cm long and is decorated with beads of Garnet, Carnelian and Black Lava further increasing the Fire connection.
The Deer Antler handle brings the strength, power, heat and passion of the Deer in the heat of the chase. Being a territorial animal the Deer is also very protective of it's family and the power of this protection is also part of the power of the Fire Athame. A beautiful solid Sterling Silver bolster and guard have been custom made to attach the blade to the handle and brings love, peace, protection, and psychic connections. The Red Jasper blade brings with it the power of the ancients in the use of a rough flint chipped shape. The Jasper in the blade grounds the energies before directing it for your purpose.
The Crystal Grove Fire Athame is $125 + postage.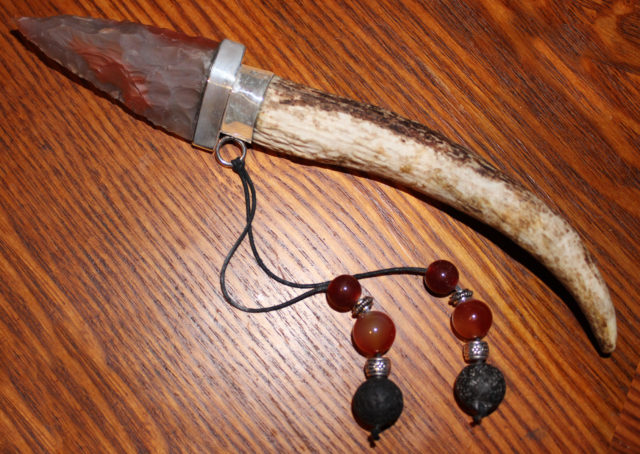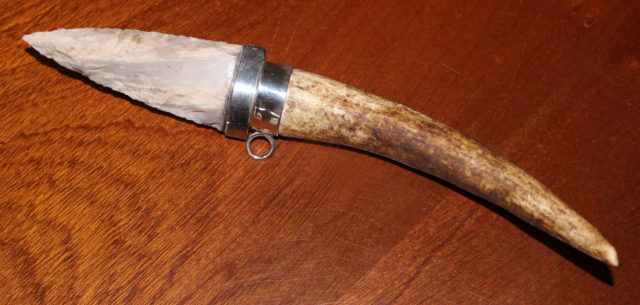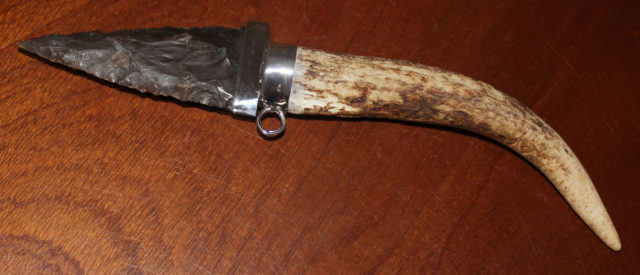 Note: The Athame with the beads has been SOLD.