The Crystal Grove Crescent Moon Pendants are hand crafted from solid Sterling Silver and measure approximately 40mm high x 30mm wide and are made with close to 10gms of sterling silver. The Crescent Moon pendants have 3 Rainbow Moonstone cabochons set on the face, 1 – 10x14mm oval cabochon and 2 – 5x5mm round cabochons. The Crescent Moon pendants have been hand crafted with great care and a sense of peace and every step of the creation process involves the blessing of the elements and the realms of Land, Sea and Sky.
The silver in the Crescent Moon Pendants brings love, peace, protection, and psychic connections. The Crescent Moon symbol itself is associated with Femininity, Women, Growth and Creativity and will help to bring Growth and Creativity into the life of the bearer. The Rainbow Moonstone calms the mind and opens your intuition and is an excellent aid in meditation and relieving stress.
The Crescent Moon pendant is $85 + postage.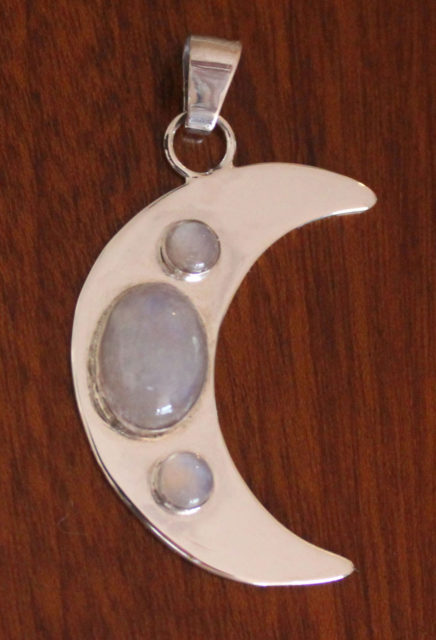 Note: these pendants are hand crafted and may have some imperfections. These imperfections are part of the beauty of the final product. Some firescale may also be present.